Department Goal
To develop engaged learners, effective communicators through engaging activities which enthuse and enrich our students' learning
Key Personnel
Ms Wan Chui Ting (Level Head/Chinese Language)
Department Programmes
To enhance students' interest in learning Chinese Language, the following activities are organized for all pupils.
National Level

1. Mother Tongue Support Programme
A customised programme to support the learning of pupils in Mother Tongue.
2. Inter-School Competitions and Activities

Fo Guang Shan Penmanship Competition

Text Recital Competition

Chinese Memory Games Competition

National Chinese Challenge

National Crosstalk Competition

National Bilingual Creative Writing Competition

School Level
1. Mother Tongue Fortnight
2 weeks of language / cultural activities to inculcate the love and interest in the learning Chinese Language through related activities.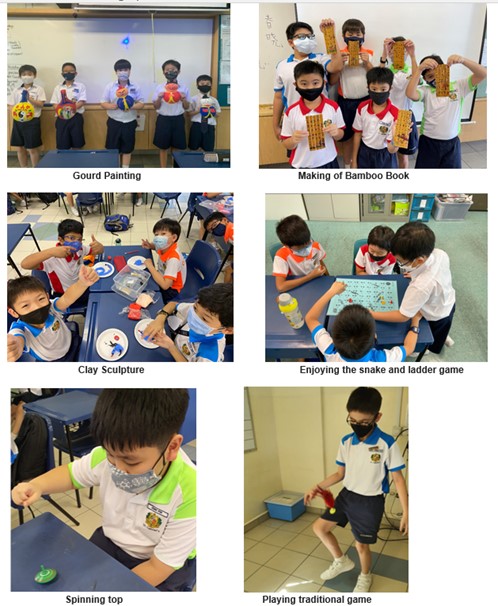 2. Inquiry Based Projects (IBL)
An inquiry-based approach shifts the focus to the students themselves, who become active learners as they choose which topics to explore; research these topics; decide what to produce, create, or solve; and then reflect on what they have learned. With a student-centred approach, it helps students to develop knowledge, skills and conceptual understanding.
3. P3 Language/Cultural Camp
Interesting language and cultural activities to inculcate the love of learning of Chinese Language.
4 Assembly Programme

Chinese New Year Celebrations
5. Inter-Class Competitions and Activities

Penmanship Competition

Reading Activities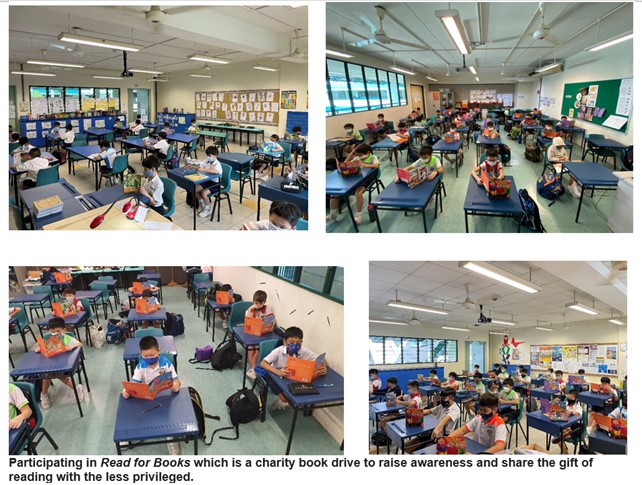 6. Oral Programme (P6)
Weekly oral practices to develop students' reading and oratorical skills.
7. Silent Reading during pre-assembly on Tuesdays and Thursdays (P1 - P6)
To encourage reading of Chinese books / articles so as to improve pupils' language competency.
8. Reading Programme
Structured reading programme which encourages reading of Chinese Language books
9. Enrichment Programmes
Speech & Drama, Composition Writing and Oracy Skills
10. Local Learning Journeys

Chinese Language related cultural performances by local and foreign performing arts groups

Movie screenings

Outdoor learning experience
Information on Chinese Language Learning Resources
ICT Resources for Chinese Curriculum to help the students to learn Chinese language
1. Ezhishi
http://ezhishi.net
A learning portal for students to learn Chinese Language so as to enhance their four skills, which are listening, speaking, reading and writing.
2. Dudu Town
http://go.dudu.town
An interesting portal to encourage the students in reading Chinese Language story books
3. Listening Practices
https://stgabriels.of-stars.com/
An E-portal for students to access listening practices based on examination format.